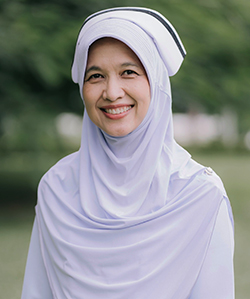 Name: Ph.D. Jitlada Piriyasart, Ph.D.
Position:  Associate Dean for Administration, Planning and Quality Assurance
Workplace: Faculty of Nursing, Prince of Songkhla University, Pattani Campus
E-mail: jitlada.p@psu.ac.th
Tel: 3811

---
Expertise/Experience/Publication/Research:
Education: Ph.D. (Nursing), Prince of Songkhla University
Expertise area:
Child and adolescent nursing

Nutrition
Publications/Research/Conferences:
Piriyasart, J., Songwathana, P. & Kools, S. (2018). Perceptions of sexual abstinence among Muslim adolescent girls in southern Thailand. International Journal of Adolescent Medicine and Health, 32(3), 1-8. Retrieved from https://doi.org/10.1515/ijamh-2017-0119.
Pummanee, T., Perngmark, P., Piriyasart, J.& Tluzcek, A. (2017). Quality of Daughter-Father Communication Associated with Youth Externalizing/Internalizing Problems in Thailand. Songklanagarind Journal of Nursing, 37(supplement), 69-79.
Piriyasart, J., Songwathana, P., & Wiroonpanich, W. (2017, October 20-22). Comprehensive Education: A Vehicle for Promoting Sexual Health in Thai Muslim Adolescents at School. Oral presentation at TNMC & WANS International Conference 2017, Bangkok, Thailand.
Piriyasart, J., Songwathana, P., & Wiroonpanich, W. (2016, June 22-24). Understanding the Perceptions of Sexual Abstinence among Muslim Adolescent Girl in Southern Thailand. Oral presentation at Optimizing Healthcare Quality: Teamwork in Education, Research, and Practice, Chiang Mai, Thailand.